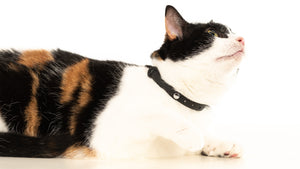 Designed and Assembled in Canada
SAFETY BREAKAWAY BUTTON
Protect your cat from injuries with our specially designed breakaway buckle that snaps open when your cat gets caught on something. The buckle is also strong enough to hold the collar securely in place during everyday activities.
Integrated Loop to Easily Attach ID Tag
Crafted from the very same rubber material as the collar, the loop seamlessly merges with the design, guaranteeing your cat's comfort and unhindered movement. This eliminates the need for extra rings or clips, minimizing the chances of them being lost or causing tangles.
Perfect for Cats with Sensitive Skin
The Nuvuq cat collar offers a subtly elastic construction, ensuring heightened comfort for your feline companion's neck. These collars are particularly well-suited for cats that typically show low tolerance for such accessories, as they provide a sensation that is less bothersome and constrictive.
Durable High-quality Rubber Material
Meticulously designed for your cat's comfort, every collar is thoughtfully created using soft, lightweight, and highly durable rubber material. This material not only ensures hypoallergenic wear but also simplifies maintenance through easy cleaning, reflecting our commitment to your pet's well-being.